All photos taken with Photo Booth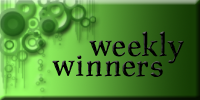 *looks around nervously* Hi, how ya doin'? Good? Good. Good to hear. Me? I'm good. Everything is coming along well. Did you hear? My head is symmetrical. Yeah. Symmetrical. Yeah. That's good to know. I know. *laughs* Yeah. Yep, I'm cleared to start radiation treatments. I'm waiting for the oncologist to contact me and we'll start making appointments and plans from there. Yeah. I'm nervous. Terrified actually, but I got good news at the neurosurgeon on Friday. Yeah. Uh huh, yep. In addition to learning that my head is indeed symmetrical I also learned that the blood clot that formed in my brain after the surgery is gone. I'm happy, the neurosurgeon is happy, which makes me happy, my husband is incredibly relieved and of course my friends and family are happy. I'm feeling strong and I'm ready for the fight. 2 hurdles down, 1 to go!
What? oh. You want to know what all of this has to do with Weekly Winners and photos? Oh. Um, yeah. I'm getting to that. I tell you all this because this week's photos are all of me. Yes. I know normally you come here to see photos of sunsets and skies and scenery and ducks but not so much me. Well it's been an icy, snowy, cold week around these parts and I didn't get out much so this week's offerings are a compilation of 365 Days of Carol Anne (Learning to Love Myself) project photos.
What is the 365 Days of Carol Anne (Learning to Love Myself) project, you ask? It's my year-long look at myself. I traded in my old laptop for this one on New Year's Eve. When I got it home and turned it on I found a program entitled Photo Booth. It allows me to take a photo of myself using my laptop's built in camera. I took a photo of myself and thought, "Holy mother of God! Who is that? Dear God. Turn it off! Turn it off!" *laughs* I'm exaggerating (but just a little). But seriously, I've never felt pretty or beautiful or sexy. I've always been the fat friend, you know the one with the "pretty face". And, now I'm bald to boot. Geez. I'm a hot mess. I kid (sort of).
So when my friend Angel decided that this new year is going to be the year that she takes care of herself and nurtures the things she loves and the things make her happy I decided to join in her year of taking care of herself. This year I'm going to learn to look at myself and not cringe. I'm going to remember how much love surrounds me. I'm going to see the beauty inside of me. I'm going to look in the mirror and remember that audacious is good, smart and opinionated is good, I'm going to find my voice and holler.
I have an appointment this week to see the owner of the salon down the road to talk about what kind wig will look best on me. I've always wanted long curly auburn hair perhaps I finally will. Wish me luck!
After all the seriousness I recommend you check out two photos posts (one from this week, one from last week) full of embarrassing and sweet photos from my childhood.
Embarrassing Photos — The Baby  and Toddler Years
Embarrassing Photos — The Grade School Years (My Many Awkward Phases)
January 16, 2011
January 17, 2011
January 18, 2011
January 19, 2011
January 20, 2011
Obviously this one bears a little explanation. From Thursday's post … Well kids the eyes have it tonight. *laughs* A very good friend called me tonight and I spent some time talking to her and forgot to take a picture of me before taking a shower. So tonight I offer you a photo of my favorite feature, my eyes. I promise I took it just now. I really want to keep up with this project and keep looking at myself and reminding myself that I am beautiful so rather than skip a night I took a picture of me unbandaged and cropped it down to just eyes.
January 21, 2011
January 22, 2011
Thanks so much for stopping by. Please come back again next week for more Weekly Winners.
For more of this week's Weekly Winners visit Lotus at Sarcastic Mom.